A Bridge over a Full Metal Jacket
So we kicked off this series a short while back and it would seem that the first instalment didn't really sit well with some of you.
Not to worry, this one might be a little more pleasing.
Let's get straight into it.
8.  Full Metal Jacket
The first of the Vietnam movies in our list is Stanley Kubrick's masterpiece. It is without a doubt one of his finest films and takes its place among the highest ranking War movies of all time.
Kubrick takes us into a war that most people want to forget ever happened and deals primarily with the mindset of the men who fought this war and what it did to America's youth.
We follow a group of trainee Marines as they undergo basic training and then follow them into combat. Though the combat scenes are graphic in nature and quite memorable the best scenes in this film have to go to the basic training and former drill instructor and actor R. Lee Ermey. Those who've seen film can't forget his sterling performance and how he scared the fucking bollix out of us!
Training and I mean real military training has never been shown in this light with it's full raw intensity and filthy language, making it fully clear how the military breaks a man down to rebuild him as a fighting machine. What this movie does really well is show the psychological strain on the men who have to leave behind everything they know from civilian life and adjust to the world of war!
Full Metal Jacket is my number 8 for all the nominations received, for showing us the true side of military training and giving us some of the most quotable lines in a movie ever.
"I bet you're the kind of guy that would fuck a person in the ass and not have the Goddamn common courtesy to give him a reach around!"
We just couldn't have it on the list without playing tribute to R.  Lee Ermey's Drill Sergeant.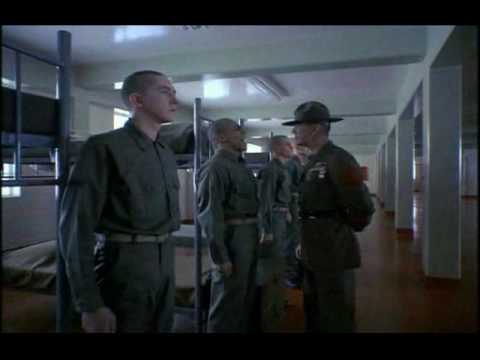 7.  The Bridge on the River Kwai
The oldest movie in my list today was made in 1957. River Kwai is one of the best windows into the life of the soldiers of WW2 who did not have the proper chance to fight the way they had been trained. Instead they were captured, made prisoners of war and made to fight a completely different war, a war of the mind.
The movie is set in Burma where the Japanese sent many of their prisoners to work on their infamous railroad system that cost the lives of thousands of innocent men.
Starring Alec Guinness as Colonel Nicolson, it tells the story of him and his soldiers who are captured after the fall of Singapore and marched to their camp of imprisonment where they are forced to build a bridge for the Japanese army. Many men are killed needlessly during the building of the bridge either of exposure, starvation, dehydration or brutality.
The film shows how the men mentally must put up with the strain of physical activity in 115 degree heat, being treated like starving dogs and the risk of death at the hands of the Japanese.
This was a horrible experience for many of them and the movie does not hold back when showing scenes of execution and barbarism. It had a brilliant cast, extremely memorable theme music and even though it's one of only a few war movies based on fiction it was still brilliant enough to win seven Oscars including Best Actor, Best Director and Best Picture.
For probably being the most realistic of the old time movies and defiantly one to watch, it's my number 7.
Hope that's fixed some of the requests we've had in on Facebook about the list.
There's still time to get your suggestion on here, what would it be?
(Brought to you by CHUNK fan and movie buff Barry Keenan.)